Dahlonega 4th of July Parade and Celebration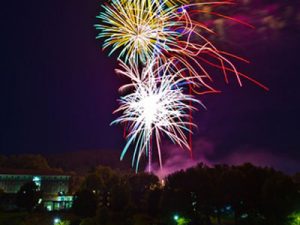 Date/Time
Date(s) - Thursday, July 4, 2019 | All Day

Location
Dahlonega Square
Thursday, July 4th 8AM – 10PM
Brought to you by the City of Dahlonega, the Dahlonega Downtown Development Authority, Dahlonega-Lumpkin County Chamber & Visitors Bureau, and Dahlonega Mountain Sports.
Firecracker 5k Event Details:
July 4, 2019
Start/Finish – East Main Street between the Welcome Center and the Chamber
Amplification from Chamber plaza
Car Show Details:
The Dahlonega Car Club will be having a 4th of July Car Show from 10am-4pm at the Lumpkin Admin complex 342 Courthouse Hill off E. Main Street, 2 blocks from our historic square.
Hancock Park Activities:
FREE Kona Ice!

Courtesy of the Dahlonega DDA!
Adventure Zone in Hancock Park

Entertainers in the park from 1:00 PM – 5:00 PM
Bounce houses in the park from 10:00 AM – 7:00 PM
Bounce the afternoon away with FREE admission to inflatables and entertainment! Face painters, balloon twisters, caricature artists, stilt walkers, jugglers and magicians will be in the park from 1-5.

Dahlonega Action Dogs

3 PM – 4PM
Dahlonega Action Dogs is a sport team that does dog sport shows and competes in Agility, Disc Sports, and Dock Diving.  The Action Dog team consists of handlers Rick and Debbie Nielsen and three border collies, Ripp, age 6, Jessie, age 5, and Pete almost 2.
Jive Revival
5 PM – 6 PM
Free concert in the park
Bring lawn chairs
Other Activities
Explore the unique shops in historic Downtown Dahlonega
Downtown Dahlonega, organized around the landmark Dahlonega Gold Museum, is a remarkably quaint and active town center. From traditional Appalachian art and locally made gifts to trendy clothing shops and regional wine, Downtown Dahlonega offers the widest array of shopping within its 65 retail stores.  Dahlonega is North Georgia's destination for casual and contemporary dining.  The 18 restaurants in downtown Dahlonega offer something for every budget, for every night, and everyone.
Tour the 1884 Historic Jail and Museum
The 1884 Jail was built to house those who were elected to uphold the law as well as those who broke it – jail cells are on the second floor, and the sheriff or a deputy and his family lived on the ground floor.
75 Enota Drive – OPEN 10am-4pm – (706) 864-0743 (Lumpkin County Historical Society) –  www.lumpkinhistory.org/jail-museum
Tour the Dahlonega Gold Museum
The museum is housed inside the 1836 Lumpkin County Courthouse, one of the oldest courthouse buildings in Georgia. Visitors can also explore the courthouse features, including beautiful wooden chapel seats from 1889 and the judge's chambers. The Dahlonega Gold Museum has just reopened after undergoing extensive renovations.
1 Public Square – OPEN 9am-4.45pm – 706-864-2257 – https://gastateparks.org/DahlonegaGoldMuseum
Learn about Dahlonega's mining heritage and pan for your own gold and gemstones!
CONSOLIDATED GOLD MINE:
Experience a working gold mine with underground tours, gold panning and gem mining!
185 Consolidated Gold Mine Road – OPEN 10am-5pm – 706-864-8473 – https://consolidatedgoldmine.com
CRISSON GOLD MINE:
The Crisson Gold Mine is an actual open pit gold mine that was established in 1847 and was worked commercially until the early 1980s.  Tour the 130-year-old Stamp Mill which is the oldest working stamp mill in Georgia.  Pan for gold and gemstones.
2736 Morrison Moore Pkwy. E – OPEN 10am-6pm – 706-864-6363 – https://www.crissongoldmine.com
Cool off in a canoe, kayak or tube!
APPALACHIAN OUTFITTERS:
Canoes/Kayaks: 2084 S. Chestatee / Hwy 60 – OPEN 10am-3pm – 706.864.7117
              Tubing: 1182 Golden Avenue – OPEN 10am-4pm – 706.867.7116  http://canoegeorgia.com/locations/
CHESTATEE RIVER ADVENTURES:
718 South Chestatee Street/Highway 60 North – OPEN 9am-4pm – 770-540-9950 http://www.chestateeriveradventures.com
Explore Dahlonega's Wine Country
Wine enthusiasts need venture no further than the foothills of the North Georgia mountains to enjoy award-winning wines and breathtaking views. With the highest concentration of wineries, vineyards, and tasting rooms in the state, Dahlonega is known as the Heart of Georgia Wine Country and the Wine Tasting Room Capital of Georgia. Home to 12 wine tasting rooms and five wineries, Dahlonega offers a variety of quality and award-winning local, regional, and international wines to locals and visitors from all over the world. http://dahlonega.org/see-do/wineries-a-vineyards