Old Fashioned Christmas
Bring the entire family to experience Old Fashioned Christmas in downtown Dahlonega. From the Friday after Thanksgiving through the New Year, enjoy extended shopping hours, holiday music and Old Fashioned Trolley or horse-drawn carriage rides. The decorated storefronts and thousands of white lights make it a festive and cheerful atmosphere for holiday shopping. You are sure to find unique, one of a kind gifts within downtown's 65 retail stores.
Become a marketing partner with your community members and the Old Fashioned Christmas Committee. It is through your efforts and active support the Old Fashioned Christmas Committee continues to grow and enhance this special once a year event.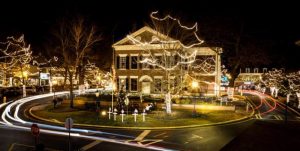 The Lighting of the Square and Merchant Open House
Mark your calendars for this quintessential Dahlonega holiday tradition! A festive atmosphere leads up to the grand illumination of Downtown Dahlonega at 6 PM. Stick around after the lighting to enjoy extended shopping hours in many of Downtown Dahlonega's 65 retail stores as well as an opportunity to see Santa himself!
Small Business Saturday
Remember to shop small this holiday season…it's going to be HUGE! Small businesses are like snowflakes, each one is unique. One small purchase can make a big difference. Small Business Saturday is a day dedicated to supporting small businesses on the busiest shopping weekend of the year. Please show your support for local businesses by pledging to shop and dine in downtown on November 28th (and throughout the holiday season). On the BIG day, enjoy special promotions and/or in-store special events at participating businesses.

For the complete schedule of events, visit DahlonegaChristmas.com or contact the Dahlonega-Lumpkin County Welcome Center at (706) 864-3711. 
Read why Southern Living magazine calls Dahlonega the Perfect Christmas Town!
Dahlonega is featured in these blogs:
Have questions, email Old Fashioned Christmas in Dahlonega