Great American Main Street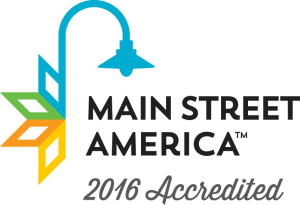 The National Main Street Center, Inc. announced today that Dahlonega, Georgia has been chosen as a 2016 Great American Main Street Award® (GAMSA) winner. The City of Dahlonega and the Dahlonega Main Street program were recognized at the 2016 Main Street Now Conference held in Milwaukee, Wisconsin.
"Downtown Dahlonega is a sparkling example of how careful planning, small business support, and historic preservation can combine to create a thriving downtown," says Patrice Frey, president, and CEO of the National Main Street Center. "Its downtown district, art galleries, restored theater and courthouse stand out in North Georgia, making Dahlonega a truly distinctive shopping and dining destination and a charming place to call home."
In its 15 years of operation, Dahlonega Main Street distinguished itself as a vital downtown partner in several ways. When a fire devastated several businesses in 2014, the organization led the effort to assess the damage, create an action plan and relocate displaced businesses and 40 employees. In partnership with the Dahlonega-Lumpkin County Chamber of Commerce, local and state government agencies, and the University of North Georgia, Dahlonega Main Street has facilitated 180 building rehabilitation, 108 new business openings and a reduction in retail vacancy rates from 20 percent in 2000 to 2 percent today.

The Georgia Department of Community Affairs (DCA) announced on April 4 the Dahlonega Downtown Development Authority is designated as a Georgia Exceptional Main Street (GEMS) Program for economic development efforts throughout 2016.
"Georgia Exceptional Main Street communities are united by common attributes that help make them the strongest commercial historic districts in the state- a commitment to historic preservation and planning, stable leadership and active municipal support," said Jessica Reynolds, director of the Office of Downtown Development at the Georgia Department of Community Affairs (DCA), which houses the Georgia Main Street program.
Preceded by the National Main Street Center's Great American Main Street Award in May of 2016, the Georgia Exceptional Main Street designation further demonstrates downtown Dahlonega's excellence in economic vitality, design, promotion and organization.
Investments in downtown Dahlonega in 2016 included 16 public and private construction projects totaling more than $1 million; $12,000 reimbursed through the Dahlonega Downtown Development Authority's historic preservation grant programs; 99 events produced; 20 special economic development projects completed; and over 4,000 community volunteer hours documented.