Murder Amongst the Vines Bacchus Mystery Theatre and The Holly Theatre Company Presents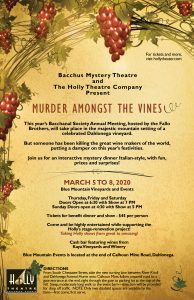 Notice
: Trying to get property 'post_type' of non-object in
/chroot/home/dahlonegadda/dahlonegadda.org/html/wp-includes/link-template.php
on line
328
Notice
: Trying to get property 'post_name' of non-object in
/chroot/home/dahlonegadda/dahlonegadda.org/html/wp-includes/link-template.php
on line
330
Notice
: Trying to get property 'post_type' of non-object in
/chroot/home/dahlonegadda/dahlonegadda.org/html/wp-includes/link-template.php
on line
334
Notice
: Trying to get property 'hierarchical' of non-object in
/chroot/home/dahlonegadda/dahlonegadda.org/html/wp-includes/link-template.php
on line
336
Notice
: Trying to get property 'query_var' of non-object in
/chroot/home/dahlonegadda/dahlonegadda.org/html/wp-includes/link-template.php
on line
346
Notice
: Trying to get property 'post_type' of non-object in
/chroot/home/dahlonegadda/dahlonegadda.org/html/wp-includes/link-template.php
on line
351
Notice
: Trying to get property 'ID' of non-object in
/chroot/home/dahlonegadda/dahlonegadda.org/html/wp-includes/link-template.php
on line
352
Date/Time
Date(s) - Thursday, March 5, 2020 - Sunday, March 8, 2020 | 7:00pm - 8:00pm

Location
Blue Mountain Events
This year's Bacchanal Society Annual Meeting, hosted by the Fallo Brothers, will take place in the majestic mountain setting of a celebrated Dahlonega vineyard.
But someone has been killing the great wine makers of the world, putting a damper on this year's festivities.
Join us for an interactive mystery dinner Italian-style, with fun, prizes and surprises!
March 5 to 8, 2020
Blue Mountain Vineyards and Events
Thursday, Friday and Saturday
Doors Open at 6:30 with Show at 7 PM
Sunday Doors open at 4:30 with Show at 5 PM
Tickets for benefit dinner and show – $45 per person Tickets: http://www.hollytheater.com/murder-amongst-the-vines.html
Come and be highly entertained while supporting the Holly's stage-renovation project!
Taking Holly shows from great to amazing!
Cash bar featuring wines from
Kaya Vineyards and Winery
Blue Mountain Events is located at the end of Calhoun Mine Road, Dahlonega.
Directions
From South Chestatee Street, take the new turning lane between River Knoll and Dahlonega Funeral Home onto Calhoun Mine, follow unpaved road to a gate entrance at the end, right through the gate to parking lot at the top of the hill. Moderately long walk to the event barn—direction will be provided for drop off traffic. NOTE: Only two disabled spaces are available by the barn—first come, first serve.