Dahlonega Independence Day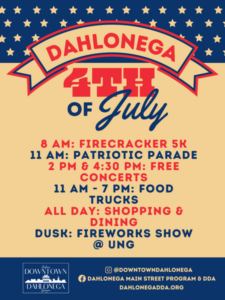 Date/Time
Date(s) - Monday, July 4, 2022 | 10:00am - 10:00pm

Location
Dahlonega Square
Looking for the perfect location to celebrate 4th of July with your family and friends? Pack up your lawn chairs and blankets and head on up to Dahlonega, only an hour's drive north of Atlanta, for a full day of exciting activities and events that the entire family will enjoy on Monday, July 4th 2022!
Dahlonega's 4th of July Family Celebrations are always the best time! Arrive early to compete in the Firecracker 5K. The rest of the day will be filled with concerts in Hancock Park, Food Trucks in the park, and a patriotic parade. After a full day of fun in the sun, head down to the drill field at the University of North Georgia to enjoy some music & watch one of the best fireworks displays in North Georgia.
Brought to you by the City of Dahlonega!
Interested in being part of the patriotic parade? Follow this link to apply! https://dahlonegadda.org/local-preservation-grant-programs/
For further information on the Car Show, follow this link: http://www.dahlonegacarclub.com/
For further information on the Firework 5k, follow this link:https://runsignup.com/Race/GA/Dahlonega/Dahlonegas4thofJulyFirecracker5kandFunRun?fbclid=IwAR073zMm9EfF5oFI-hpQ5AXwlfk3wfXtitt5MJ41Zus_5fRluIpHQUwHmCQ