Dahlonega Inn on Main Bed & Breakfast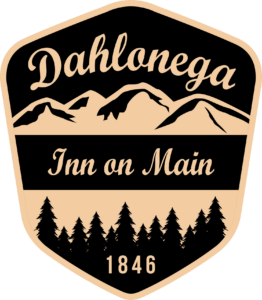 Dahlonega Inn (formerly the Worley Homestead) History
What is now the driveway in the front of the home was once the old road to Atlanta and the house stood new and proud in 1846 as Dahlonega volunteers marched along the road to Texas and Mexico to fight in the Mexican war from which many did not return.
The Inn faces a park and Price Memorial Hall, a historic site in Dahlonega, Georgia. The hall was built on the site of the U.S. government's federal branch mint built in 1836.  The gold steeple was added to the University of North Georgia's Price Memorial Hall in 1972 with genuine Dahlonega gold and makes for a beautiful view from the front porch.
The house stood in 1849 when US mint assayer Matthew Stephenson stood on the courthouse steps just 2 blocks away and implored Dahlonega gold miners not to leave to go to the California gold rush. His speech declaring that there was still gold in Dahlonega has been corrupted to become the saying today… "There's gold in them thar hills".
It stood in 1860 and watched the men and boys of Dahlonega march by on their way to Atlanta to fight in the civil war. One of the men was Captain William J Worley. Shortly after the civil war in 1865, the Worley family took over the Worley Homestead and lived there until 1932.
Fifty years later, the old home was ready to vanish into history as time took its toll on the house until Captain Worley's great-granddaughter purchased the home in 1983 and completed an extensive restoration.
Another forty years later, Darcy and Mark Pittman have completed another restoration of this historic home.